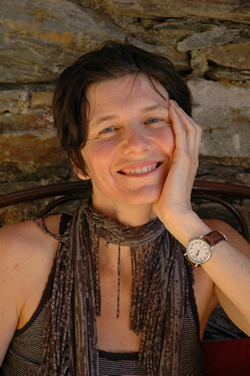 About Me
Originally from Glasgow, I now live in a remote part of the Cévennes mountains of France where my husband and I run a retreat and organize courses that include writing retreats. I am also the editor and publisher of Pindrop Press, having taken over the company in 2016. After studying French at Aberdeen University, I spent a year in Japan teaching English to well-behaved school children, then worked for 10 years as a journalist in Glasgow with badly-behaved colleagues. Lesser but equally entertaining jobs have included being a Pizza Hut waitress, cinema usherette, shop assistant, au-pair, interpreter, language tutor and pressing fliers for dodgy Spanish timeshares onto British tourists.
I started writing (very bad) poetry, like many people, in my teens then forgot all about it as a young adult caught up in the heady world of print media. I took up reading and writing poetry again once I had stopped penning articles for a living and my youngest daughter had started school full-time.
I have won a few prizes for my poetry, including 1st prizes in the Guernsey International Poetry Competition 2019, 'Poets Meet Politics' Poetry Competition 2019, The London Magazine Poetry Prizes 2019 & 2018, Cheltenham Poetry Festival Competition 2017, Poets & Players Competition 2017, Manchester Cathedral Poetry Competition, The Silver Wyvern Prize 2016 (Poetry on the Lake), Prole Laureate Competition 2016, Shiny New Books Poetry Competition 2015, Ilkley Literature Festival Poetry Competition 2013 and The Frogmore Poetry Prize 2011.
I was runner-up in the Robert Graves Poetry Prize 2019, Mslexia Poetry Competition 2017, Troubadour International Poetry Prize 2013, and Wigtown Book Festival Poetry Competition 2011 - and highly commended in the Wigtown Poetry Competition 2016.
I like nothing better than sitting around with an endless supply of tea, in front of a good view or log fire, with a notepad and pen. Nothing, that is, except for cheesecake.
* In February 2019 I was interviewed by Maria Isakova Bennett for The Honest Ulsterman about my role as poet and editor. You can read the interview here.
* And as part of a project called The Next Big Thing, I was interviewed about my first collection, To Know Bedrock. Read the interview here.