Home
Welcome to my website, a place for me to share my poems with anyone who fancies turning up or stumbles in accidentally needing shelter. The rather cool photo above was taken by my husband Alex on a trip to Marseilles. I picked it because it echoes the theme of my first collection, To Know Bedrock. Plus I find it very clever he managed not to get his new camera wet in the process.
My debut collection of poetry To Know Bedrock is available to buy direct from my publisher at www.pindroppress.com. Just click on my name in the menu 'Pindrop Poets', scroll to the bottom of the page and click to order. If for some reason you are unable to order a copy, let me know and I'll sort you out.
My second collection The Art of Egg is published by Two Ravens Press and was launched in June 2015. Copies can be purchased directly from me - see the Publications page.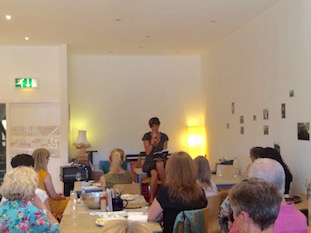 Launch of 'The Art of Egg' at Glasgow's The Project Cafe on 10 June 2015

Launch of 'To Know Bedrock' at London's Phoenix Artist Club on 15 November 2011
News
* Abri Creative Writing has a great program of retreats lined up for 2016 in the south of France. Tutors include Roselle Angwin and Lucy Wadham. Details will be posted soon on www.abricreativewriting.com
* I will be reading at StAnza poetry festival in St Andrews in March 2016 - first to help launch the Emma Press anthology Age, then a solo reading (details coming soon).